***YOU'VE BEEN FOREWARNED: This post is very long and drawn-out, but we're dealing with some serious local hip hop history here. If you care about the local hip hop scene, you'll bear with us and read the whole post. Trust me, you will learn something.***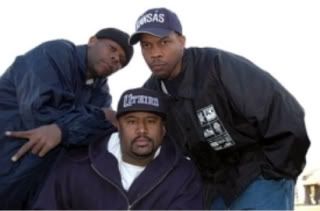 A few months ago, we got hip to a talented MC originally out of Topeka, KS, who now stays in Grandview, who goes by the name Str8jakkett. If you picked up the summer issue of Demencha (on flyer racks at 7th Heaven, Love Garden, Need More Discs, Zebedee's, Nara, The Peanut, etc.), you know how hype we are over Str8's latest solo album, Mood Swings, which we reviewed in that issue. Str8 was kind enough to take a stack of magazines off our hands to distribute in south KC/Grandview, and he also hooked us up with a CD that his old DVS Mindz crew (Topeka) did back in 2000 on No Coast Recordings. Just a few days ago, I sat down and listened to that CD, Million Dolla Broke N—–: 1994-2000 vol. I. Little did I know how much history was behind this CD until I called Str8 and told him how dope I thought the CD was. On track 4, titled "Seven," I heard an MC that sounded like Godemis from Ces Cru, but didn't think much of it…

"That is Godemis," Str8 told me on the phone to my surprise.

Str8 then informed me that the featured rappers on that song were a group called Qui Lo, that was Godemis (now a member of Ces Cru), Titanium Frame and Joe Good, who back then went by "Dr. Who." Joe Good aka Dr. Who actually produced the beat to "Seven" himself. The Qui Lo guys were all 17-18 years old when they did this track. I know there's a lot of Joe Good fans, Titanium Frame fans, and Godemis fans out there, so we uploaded this song with the three of them rapping on it, alongside the DVS Mindz guys (scroll down and DL it after you're done getting educated!). I'm currently talking to Titanium Frame about getting an old Qui Lo CD that they recorded in the mid-90's but never put out. As soon as I get that CD, I will upload it for all you guys to download and study/reminisce/learn from. I can't wait to get my mitts on that CD. Str8 talks more about how they came together with Qui Lo later in this interview.

Anyways, back to the DVS Mindz CD that I got from Str8. Classic West Coast underground artists like Living Legends and Heiroglyphics come to mind as far as comparisons when you listen through these choice tracks featured off DVS' Million Dolla Broke N—– album. They don't pay much attention to choruses on this CD, in favor of just spitting flames back and forth for 15 tracks. More than half the album's songs go for between 6-8 minutes in duration, and to hear these guys just trade verses (a'la Wu-Tang on "Triumph") is amazing. Simply, Million Dolla Broke N—– is some old-school, local, underground shit in it's RAWEST form.

We ran up to Applebee's in Grandview just after we listened to this CD all the way through and did an interview with Str8jakkett. Here's what he said about the history of DVS Mindz, the importance of Flavor Pak, Basement Khemists, Bill Pile, and how those people were willing to see the talent in the DVS Mindz guys, or as Str8 describes, "just some country boys" from Topeka…

Str8jakkett: There are a lot of cats right now that are seeing light, and that's great. I'm not a hater, I love that. There are a lot of cats out there that aren't seeing any light. And they're smelling they're piss. It's an age-old saying, I mean, it's like they're shit don't stink. It's like they're smelling their own piss and it smells like kool-aid, you understand what I'm talking about? Back in the day man…and coming where I'm coming from, Topeka, Kansas, the capitol of Kansas, dude (note: Str8jakkett now lives in Grandview, MO). When you look at the map, it's the middle of fuckin' nowhere. (Back in the day) there was no hate. We were all on the same mission, we were all in the same boat! We were just trying to make it work the best we could. I hear a lot of complaints about what's wrong with the scene. Well that's one right there. Cats (in KC) aren't linking up. They link up with little homeboys that they know on the block, or they link with their little homeboy that they went to school with. A lot of these cats aren't linking up. For the Basement Khemists, and for S.G. and for The Popper and Eric from Studio B to embrace us and pull us in…you know, we were country boys, man. And for them to pull us in and say, "Hey, they got somethin' special," that means a lot and it's meant a lot. And I owe Grant (Grant Rice) a big one, so I gotta get him on my next album. When I was coming up, I was your age. Try to go to one of these cats now. They get to looking at you sideways, turning their shoulder, ass on their back. They get to acting all crazy. It's like, damn dog, we all in the same pot! We're not crabs in a barrel, we're trying to put it on for the town, for real. Because if you go 500 miles to the East (St. Louis), they got artists on. I honestly feel like nobody is gonna care about Kansas City until Kansas City starts caring about it's damn self. When we were coming up, we had an avalanche with a Bill Pile. We had a Flavor Pak with Jeremy. And they wanted to see this blow up, and they gave us our biggest shows. When they needed openers, they knew they could count on the DVS Mindz. They could count on the Basement Khemists. There's just a lot of hate right now. And it really bothers me. That hate really goes on throughout the country, and throughout hip hop, period. Those were some great days that we lived, and I'm not gonna lie to you. We had fun. We opened for the major acts that came through. I'm talking about 6,7, 800 plus, sometimes 1,500 plus. I mean, we did the May Day bash that got shut down. And there was 3,500 people in there by the time DVS Mindz took stage. We had fun.

DEMENCHA: Tell me about some of the bigger shows you guys did in the past…

St8jakkett: With The Avalanche, Bill Pile, Jeremy McConnell with Flavor Pak, we were always opening up for somebody. We opened for DJ Cash Money, to Wu-Tang, to Das EFX, to M.O.P., to Heiroglyphics and Del, to Sugarhill Gang, to Xzibit and Phife in St. Louis.

DEMENCHA: Tell me about when you guys linked up with J Lee and later, S.G….

Str8jakkett: Before we met up with S.G. we met up with Jeremy from Flavor Pak. We did some shows in the Bottoms (West Bottoms). They (Flavor Pak) wanted us on this Lollipop kids show. We were in their magazine, too, so we were like, alright. So we came down to do that, and the Lollipop Kids cancelled. We were supposed to have a 30-minute set. And (the people throwing the show) asked us if we could go on for another 45 minutes because Lollipop Kids cancelled. We ended up doing the show for an hour and a half. That was our very first Grenada show. That was one of the more hype shows that DVS Mindz has done. If any performer knows what I'm talking about, you go into the back, you go up the stairs and that's where the dressing room is. We're sitting in the dressing room while they're announcing the acts. They made the announcement that Lollipop Kids weren't going to be there. But they made the announcement that DVS Mindz is here. And there was a roar that came from that crowd, through that curtain, up the stairs and it shook everybody in that (dressing) room. We looked at each other like, "Wow." We had never done a show at the Grenada before. We were in the middle of dressing. So you're dealing with half-dressed grown men, and this is at the time when you could see through the curtain and see the crowd, and it was a whole sea of people out there and they were (going crazy). (After that,) J Lee came to Topeka. He came to my house, and I'm gonna keep it 100 with you, and you can put it in there too, I want that in there…J Lee didn't want to come in the house at first. You know what I'm saying? Because it was a group of us, and how he came down was how he came down. I smoothed that over, I was like, "He can come in here, this is my house." This had to be '94 maybe '95. He finally came in and we got to vibing, and he was like, "Look, come down to our studio," in Kansas City, KS, if I'm not mistaken. We came down and it was J Lee and the Basement Khemists and it was us. And there were a couple of Heet Mob members in there as well. Joc was late, Joc was on Joc time. He showed up and he had the SP-1200 and he threw the joint on and we started rocking, just rocking! Then we went to (another) studio around the way, in the hood. We started running through songs and lyrics. We (DVS Mindz) needed beats. Joc was already on that, and we didn't understand it. Joc was moving beats already, but we were some poor dudes and we didn't have the money for that dude's beats. Joc said, "Look. I'm gonna hook you up with a dude I know. And this dude is cold. His name is S.G." He gave us the number, and in '96, I called the dude and I said, "Joc told us about you." And he said come down, and I think it was like a Saturday. And if I'm not mistaken, I think that same Saturday I went to jail (laughs). Man it was some punk traffic shit. I got out of the joint and we went to Kansas City the same day. And we met with S.G. right there on State Line. We went in there, and man did he have some shit in that board. I can't remember the name of the board, maybe a 16. We picked three beats. We ran back home and we were in Topeka just writing! We made three songs and came back to KC. We went to Studio B to record those songs. And that's where everybody was at. That's where Ill Koncepts The Popper, we met Luna…we met a lot of dudes, man.

DEMENCHA: Who are the members of DVS Mindz?

Str8jakkett: Killa The Hun, D.O.P.E., D.L., DJ Kut, myself, and Def DJ.

DEMENCHA: Tell me about Qui Lo…

Str8jakkett: What you remember is Ces Cru, Joe Good and Titanium Frame. I remember them when they were Qui Lo (say: Qwah-Low). These cats were like 17, 18 years old and they were on stage rocking 600 or 700 people at the Grenada, just rockin it. I saw them do it in St. Louis, I saw them do it in Lawrence. I got footage. I know you want it!

DEMENCHA: A lot of the guys in DVS Mindz remind me of The Grouch and the Living Legends and the Heiroglyphics crew, as far as your guys' voices.

Str8jakkett: A lot of people, like myself, have family that moved out to the West Coast and they picked up the slang and the terminology. But they have that Midwest drawl to them too. But at the end of the day, all of us come from the South. Well, not all of us, I can't say all of us. But we all have those Southern roots, you know. A lot of these cities were populated by black people because we came from here, here and here, and they spread out. So yea, we picked up a lot of stuff from Ice Cube and NWA. And I got a lot of East Coast influence too, because I got people in Jersey, son!

DEMENCHA: A lot of the songs on the Million Dolla Broke N—– album were 6-8 minutes in length, and you guys were just spitting verse after verse on them, which I love. But you said you guys also weren't real familiar with song structure. Would you perform that old DVS Mindz stuff today in 2008, knowing that you guys made that music with no real attention to bars and structure, etc.?

Str8jakkett: It's not that we didn't know about counting bars, we just didn't give a shit about counting bars. We wanted to spit. We come from a different era, as opposed to a lot of the younger guys coming into the game. They do a 16 and a chorus and a 16 and a chorus. We came up in the tundra. Spit. Give it your all. What was on that album, Million Dolla Broke N—–, was what I like to call "off the corner rap." Ain't nobody trying to hear no chorus man, you know what I'm saying? But to perform it? Yea, that's what we made it for. I would love for DVS to come in and do "Seven" with Qui Lo (this song is featured at the bottom of this post you're reading right now).

DEMENCHA: Fill in the blank: you can't talk about Top-City hip hop without talking about ___________

Str8jakkett: You can't talk about Top-City hip hop without talking about Evil Loc. You can't talk about Top-City hip hop without talking about DJ V "The 45 King." You can't talk about Top-City hip hop without talking about DVS Mindz, of course. You can't talk about Top-City hip hop without talking about Jason Bugg. You can't talk about Top-City hip hop without talking about Matulo. You can't talk about Top-City hip hop without talking about The T-Town Rockers. You can't talk about Top-City hip hop without talking about 4 U 2 NV. You can't talk about Top-City hip hop without talking about Pain. You can't talk about Top-City hip hop without talking about Burnna Blok. You can't talk about Top-City hip hop without talking about Kaze. You can't talk about Top-City hip hop without talking about Munchie. You can't talk about Top-City hip hop without talking about a lot of people, man, that have pulled together and have been doing the thing for a long time. Shawn Spicer, too. And Stik Figa.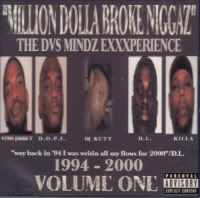 ***Below, I gathered a few songs from the MDBN album for you to download and cherish. I picked my five favorite songs off the album, and I hope you guys can get into these.***

DVS Mindz – Million Dolla Broke Niggaz: 1994-2000 Vol. I
tracklisting:
1. "Public Service Announcement: Str8jakkett" (prod. by Tom Woosley and S.G.)
DOWNLOAD HERE:

2. "Madness" (prod. by D.O.P.E.) *ask us to upload it!*
3. "DVS Mindbender" (scratches by Def DJ, prod. by S.G.) *ask us to upload it*
4. "Seven" feat. Qui Lo (Godemis, Dr. Who aka Joe Good & Titanium Frame) (prod. by Dr. Who aka Joe Good)
DOWNLOAD HERE:

5. "Public Service Announcement: Killa Tha Hun" (prod. by Tom Woosley and S.G.) *ask us to upload it!*
6. "Murdarous Verses" feat. Killa Tha Hun & D.L. (prod. by Mr. Wolf) *ask us to upload it!*
7. "Misrepresenters" (prod. by S.G.)
DOWNLOAD HERE:

8. "Tired of Talking" (prod. by D.O.P.E.) *ask us to upload it!*
9. "Inferred Connection" feat. Bronz and Paw Paww (prod. by S.G.)
DOWNLOAD HERE:

10. "Public Service Announcement: D.L." (prod. by Tom Woosley and S.G.) *ask us to upload it!*
11. "Me Against Myself and I Prevail" feat. Str8jakkett (prod. by Tom Woosley) *ask us to upload it!*
12. "Unsigned Hype" (prod. by S.G.) *ask us to upload it!*
13. "Bust Somethin" feat. The Zou (prod. by Boogieman and Rock) *ask us to upload it*
14. "N—–" (prod. by Boogieman and Rock) *ask us to upload it!*
15. "Yellow Brick Road" feat. Pontiak (prod. by Tom Woosley)
DOWNLOAD HERE: