http://2b-on.pt/?p=why-is-school-important-essay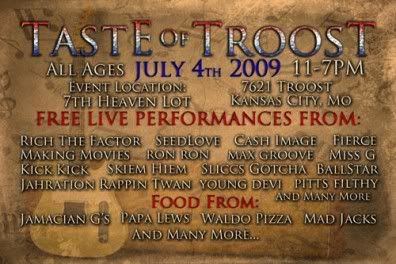 here My homie http://bw-mag.com/thesis-writing-service-in-malaysia/ Young Fierce is one of the headliners at this show. We did a cover story on him in the fall 2008 issue of http://albaghdadipenang.com/?p=objective-for-resume-admission-counselor Demencha. Word is, http://pghgrp.com/research-papers-vs-expository-writing/ research papers vs expository writing the Quincy Jones of Kansas City is producing his upcoming solo project! I'll have to get confirmation from this producer before I let this info out completely.

ALSO – http://kaya-izolasyon.com/?help-with-english-writing help with english writing Ron Ron, who will be featured on the cover of the upcoming summer/fall '09 issue of Demencha, which http://airwheelbot.net/?p=how-to-write-an-essay-qut will be published mid-August, will be headlining also.

Back to the Taste of Troost party, show up to 76th and Troost (outside 7th Heaven) between 11 am and 7 pm for a free day of partying with catered food from area restaurants, and live performances from over 20 bands and rappers.

Hope to see you there!