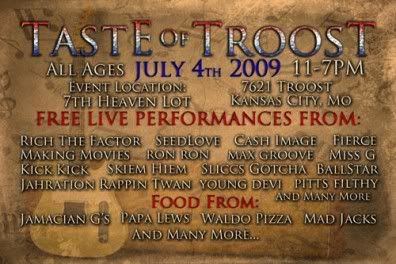 My homie Young Fierce is one of the headliners at this show. We did a cover story on him in the fall 2008 issue of Demencha. Word is, the Quincy Jones of Kansas City is producing his upcoming solo project! I'll have to get confirmation from this producer before I let this info out completely.

ALSO – Ron Ron, who will be featured on the cover of the upcoming summer/fall '09 issue of Demencha, which will be published mid-August, will be headlining also.

Back to the Taste of Troost party, show up to 76th and Troost (outside 7th Heaven) between 11 am and 7 pm for a free day of partying with catered food from area restaurants, and live performances from over 20 bands and rappers.

Hope to see you there!