I can't comprehend the obsession fans have with the band Tool, and that's part of the reason why I am so repulsed by both parties. You never see someone who just likes Tool, they literally worship them. They live and breathe neurotically for this nauseating bunch of losers. Did I miss something, or do I just have to be really stoned to "get" it? Tool's lead singer James "Maynard" Keenan is one of the biggest douche bags from my generation's dismal taste in "music". Whether I am reading something this dude has said, or actually listening to him speak in interviews, I still find myself flabbergasted by the kind of pompous idiocy that comes out of his mouth. "I can't be a legend yet. I'm not dead." Are you kidding me? Did this guy actually have the balls to say this? It doesn't take death to make you a legend, (i.e. Paul McCartney, Jimmy Page, Chuck Berry) but he's so completely moronic, he didn't even notice his attempt at being completely conceited backfired and made him look like a failure. In his eyes, he will only reach renowned fame through death. That's pretty damn weak. Maynard is not a "God", he is not insightful, and he is not deep. He is no legend.

Maynard is a really obnoxious nickname Keenan gave himself while he was in Miltary school. That's right…James 'FUCK THE WORLD' Keenan was once upon a time an army brat, claiming he was influenced to do so because of the movie Stripes. Look, I love Bill Murray. I mean, I really love Bill Murray. And sure, at one point in my life I wanted to be a Ghostbuster, or a depressed oceanographer, but I'm not about to make any decisions solely based on cinema. In researching up on Maynard's joke of an existence, I marked this as the very beginning in his long list of brilliant ideas. Now, lets focus on the hypocrisy of it all. Why would a strong, self-proclaimed, anti-war activist enlist in the United States Army? Well, besides the intense persuasiveness that comes from Stripes, I have no idea. Apparently though, Keenan was top of his class, got offered to go to West Point's prep school, and declined. Here's a direct quote explaining his declination:

"I met a lot of wonderful people at the academy, but I realized there was no way I would make it through West Point undetected. They'd realize I am definitely a dissident, and speak my mind and think for myself, so I might as well bow out and choose another career. I declined my appointment in 1984."

A dissident? Oh, shut uppppp. Yeah Maynard, I'm really convinced that your secret personality went undetected by Military personnel, and if you had actually gone to West Point, everyone would have figured out who the real you was.

And my personal favorite quote from Maynard, which comes from the same interview –

"Politically, I think (our system) is broken. I'm thinking of learning Chinese, just in case (China) comes in and 'fixes things.' " BRAVO, MAYNARD! You've once again proven that just like most celebrities who abuse their fame to voice opinions about politics, you have no idea what the hell you are talking about. Yeah okay, you've got beef with the United States government, understandably so, but anyone who believes Communism would in any way be a step in the right direction is insane. I don't know about anyone else, but, I will take a big PASS on any help from China regarding "our system". Not only is Maynard a total poser, but he's an ideal example as to why most of the public can't stand celebrity activists. Fake beliefs, combined with strong points of view on issues he knows nothing about, makes Maynard one in the same with his moronic fanbase. You know, the kids you went to
high school with who turned 18 and still thought anarchy was awesome. The ones who slept through every class and wore the same t-shirt that reeked of stale pot every single day. Only…Maynard is Forty-Seven. My dad is forty-seven.

Another thing that annoys me about Maynard is his outspoken disapproval of music file sharing. He uses the same excuses that Metallica did – This is how we make our money and you're stealing from us blah blah blah.They won't even sell their album on iTunes because they don't want listeners having the ability to download just one song. I guess this is where I become insensitive, because I certainly don't feel sorry for them, or Metallica. Stop charging $80 dollars per ticket for people to come watch a shitty laser beam show, Tool. Maybe then you can whine about how you're not making enough money.  Perhaps then your annoying fans will stop carelessly ripping your albums for their 3 friends. It's hysterical how bands like Tool make it as big as they do thanks to a following of lazy slackers, but later they act so shocked that fans download their music for free instead of buying the album.  Really? That surprises you, dude? I'm sure they'd really love to buy your new album, but they already spent the last 20 bucks Mom gave them on a quarter of schwag. Besides, who needs to physically own the album when instead, you could choose the luxury of sitting alone in your dark basement with a 3 foot bong, listening to 10,000 days downloaded from Megaupload, while looking up Alex Gray's artwork on Google FOR FREE!!??! Exactly. When your fanbase is nothing but idle stoners, your income may suffer accordingly.

Simply because a band has no concept of time signatures, does not make them good. If it sounds just like "noise", it probably is. If a song sounds like it took less than 3 hours to write the lyrics and instrumentals for, and record, it probably did. Listening to Maynard give jeremiads on life is excruciating, but once you start using cookie recipes for lyrics, your band sucks. Tool will often play more rapidly and with more variation but nothing they do is even that intricate. In a nominal sense, Tool is definitely nothing special. Except, they are really good at picking out clever logos.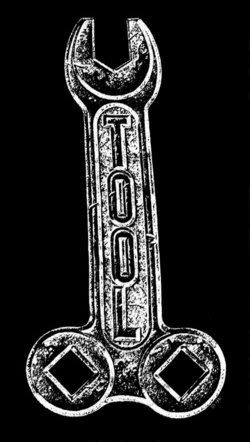 You see… it's funny, and "edgy", 'cause it's shaped like a penis. Ohhh, those guys!

Ninety-six percent of Tool fans are teenagers who, inspired by Maynard, develop a "fuck this shit" attitude. They have disturbingly poor hygiene. Tool fans are also known to take psychedelics at parties and try to talk to you about why Ishmael by Daniel Quinn is such a live changing novel. They must always be stoned. If a Tool fan were to run out of pot, and A.) Had no cash, or B.) Were unable to touch base with their local drug dealer, they will then immediately and without recourse, scrape and smoke the resin that remains in every single piece of pot paraphernalia they own. They treat everyone around them like shit, as if Tool is a secret band that only "smart people" listen to, whilst posing as "activists" for things they know absolutely nothing about. The other 4% are made up of dorky old guys who still listen to bad metal, people who still listen to 311 (go fuck yourself), juggalos, and wanna be hippies.

Still, even though Tool fans smell like garbage and are practically fried retards, they are still intransigent fanatics for these guys. Tool is immensely unworthy of the incessant adoration their fans give them, and that is the most unbearable thing about this band.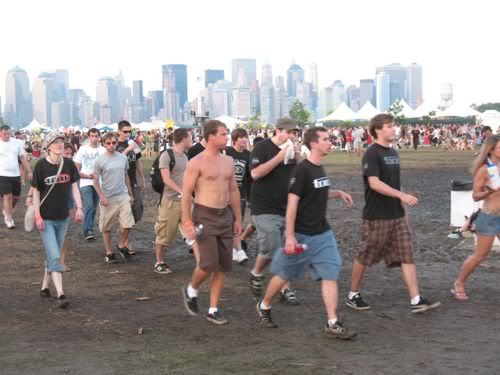 MORE evidence as to why Tool sucks:

Maynard talking out of his ass

Maynard, now transformed into a clean-cut douche, tastes wine from his personal vineyard (where he spread his mother's ashes, like a fucking creepass) with some moron who is equally as annoying as he.